RIBA Scott Brownrigg Award for Sustainable Development: Judging Panel
The new RIBA Scott Brownrigg Award for Sustainable Development funds research to address environmental and ethical issues and enhance the quality of life of communities across the globe.
It offers £5,000 to individuals or teams to develop an architecture research project, focusing on one or more of the 17 Sustainable Development Goals of the United Nations.
We are pleased to introduce the expert panel, tasked with selecting the recipient of the first RIBA Scott Brownrigg Award for Sustainable Development. Entries are open until Friday 24 June 2022.
Mhairi McVicar (Chair)
Mhairi McVicar is a Professor at the Welsh School of Architecture (WSA), Cardiff University and previously practiced in the UK and USA, having completed a USA architectural license. She chairs the Master of Architecture 2 at WSA and is the Director of Equality, Diversity and Inclusivity at WSA.
Mhairi is Academic Lead of Cardiff University's Community Gateway, a partnership platform which facilitates co-produced projects between Grangetown, Cardiff and Cardiff University, including a ten-year partnership on the RSAW award winning Grange Pavilion. Mhairi has published on the role and value of the architect in community asset transfers and processes of architectural practice and, with co-researcher Neil Turnbull, was the recipient of 2015 RIBA Research Trust Award. She is co-editor of the pending book Generosity and Architecture (Routledge, 2022). Mhairi is the current Chair of the RIBA Research Development Group.
Simon Allford
Simon Allford is the current President of RIBA. As a founding director of Allford Hall Monaghan Morris, he leads a studio of two hundred architects working around the world on the design and construction of projects that reflect his belief that outstanding architecture must last through time and accommodate different uses to those that called it into being, whilst offering an extraordinary and delightful backdrop to the theatre of everyday life.
Simon is a frequent teacher, judge of major awards and competitions, a writer, and critic. He is currently a visiting professor at the GSD Harvard, and a Trustee of the London School of Architecture and Chickenshed Theatres Trust. Simon is a former chair of the Architecture Foundation.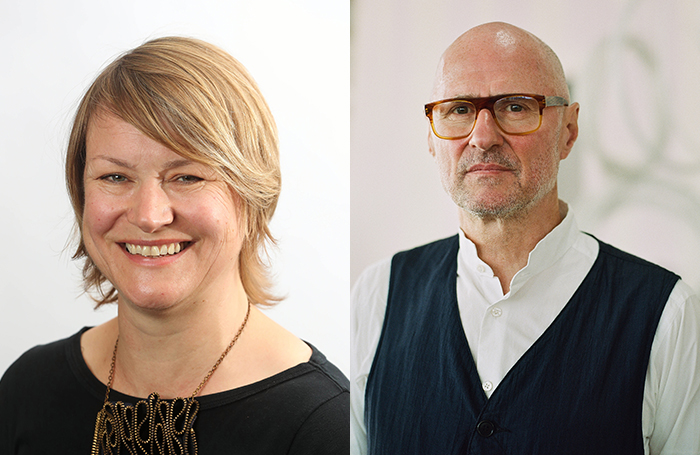 Left to right: Mhairi McVicar, Simon Allford
Mario Vieira
Mario Vieira is our Head of Sustainability and Director at Scott Brownrigg, a global design leader specialising in architecture, masterplanning, urbanism and interior design and an RIBA Practice role model. With a heritage that spans over 110 years, the Practice seek to transform the industry and enrich lives through the built environment to create a better world. Scott Brownrigg's Design Research Unit is the centre of expertise that represents the leading edge of our thinking. It powers change here and across the industry through collaboration and open source intelligence and will be the vehicle providing mentoring and support to the award recipient.
Mario is responsible for setting sustainability objectives and targets, and leading the Practice in planning and implementing initiatives to meet them in its studios and projects around the world. He encourages project teams to look at sustainability holistically, to identify project specific opportunities, to solve the technical challenges, but always remembering that sustainability is firstly about people, fairness and justice. He is currently leading the Sustainability Team in developing a sustainability toolkit, with a focus on climate literacy, carbon reductions, health and well-being, and social value. Mario has cross-sector experience; however residential is his specialism where he's skilled at delivering large and complex projects.
Gregory Baker
Gregory Baker is CEO and founder of ESE Capital. He has built a career as a serial entrepreneur, both in the UK and overseas, building businesses in real estate, technology and the financial services sector. In the last five years, Gregory has been involved in creating and funding projects that will deliver a gross development value of £750m+. Gregory's focus is to work on projects that he is passionate about and that have a positive environmental and social impact as well as deliver a return on investment.
He strives to create ecosystems that retain the identity of the location as well as long-term sustainability as can be seen in the first of its kind Wellness resort in Scotland and a unique mixed-use resort in the Moroccan Sahara. His other businesses include a hedge fund and a film production company. Gregory is a keen traveller and outdoorsman who loves spending time with his family kitesurfing.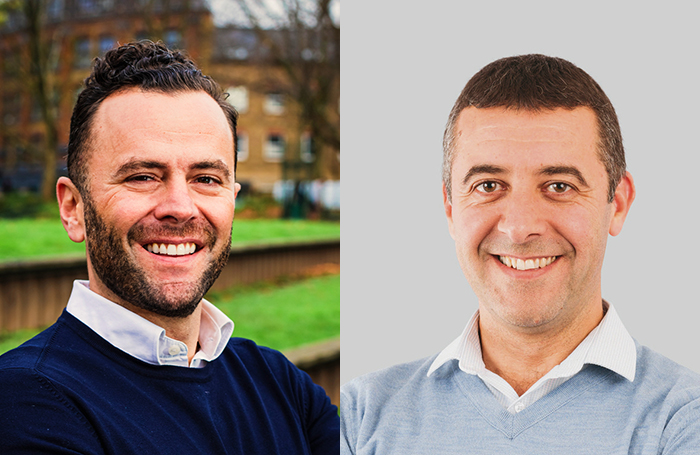 Left to right: Gregory Baker, Mario Vieira
Laura Evans
Laura Evans is a Senior Lecturer in Architecture at Kingston University and has been a visiting critic at a number of universities in the UK and Europe including TU Dublin, the University of Liverpool, and the University of Cambridge. Since 2017, she has been a director of Howland Evans Architects.
She graduated in 2013 from the School of Architecture at London Metropolitan University. Previously, she had studied Ancient History and Archaeology with History of Art and Architecture at Trinity College Dublin, and Architecture at the University of Limerick.
An architect and researcher, Laura has experience in practice in both the UK and Ireland. In 2016, she was awarded the RIBA Boyd Auger Scholarship for an ongoing research project entitled 'Portico and Patio: Response to Climate and Tradition in Cuban Modernist Architecture', which resulted in a publication and an exhibition of drawings and models at the Crypt Gallery, in London, in 2018. In 2019, she became a member of the RIBA Research Development Group.
Rajat Gupta
Rajat Gupta is Professor of Sustainable Architecture and Climate Change at Oxford Brookes University. He is also Director of the Oxford Institute for Sustainable Development and of the Low Carbon Building Research Group. He has been academic lead on major interdisciplinary research projects and his research interests lie in evaluating building performance from a socio-technical perspective, smart energy systems, local area energy mapping, scaling up energy retrofits, indoor air quality and overheating in care settings and homes
Rajat is Director of the international Passive and Low Energy Architecture (PLEA) network and member of the EPSRC and ESRC peer review colleges. He has lectured widely (UK, Europe, North America, Australia and Asia) and delivered 50 conference keynotes. He has produced over 150 peer-reviewed publications that include strategic research papers on the future direction of energy demand research and evaluation of an innovative national deep renovation programme, as well as reports for UNEP/UNFCCC on greening housing and climate change adaptation of the built environment.
Rajat is on the editorial boards of Energy and Buildings journal (Elsevier), International Journal of Urban Sustainable Development (Taylor & Francis) and Advances in Building Energy Research journal (Taylor & Francis). He is currently external examiner for the MSc Energy and Sustainable Building Design programme at the School of Energy & Sustainable Development, De Montfort University. He has been a member of external validation panels for Masters Programmes in the Architectural Association (AA) School of Architecture and University of Bath. He has examined 20 PhD students in the UK, India, Republic of Ireland, Denmark and Australia.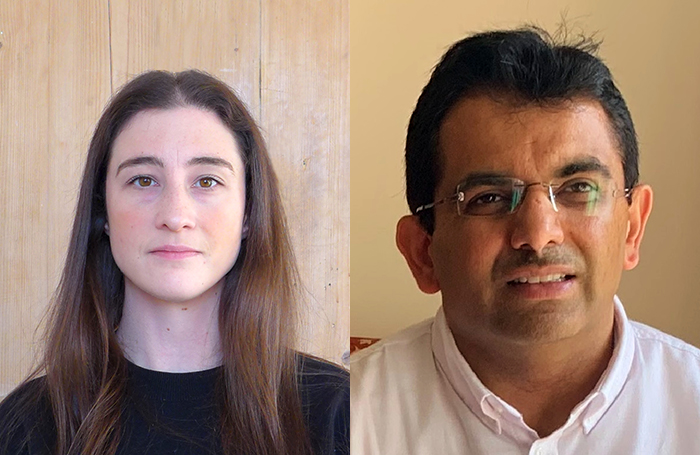 Left to right: Laura Evans, Rajat Gupta
Mina Hasman
Mina Hasman is a recognised expert in the field of sustainability, and is actively involved in the RIBA Ethics & Sustainable Development Executive Leadership Group, UKGBC's Board of Trustees, LETI's Steering Committee, UNEP/GlobalABC's COP Task Force (as the Commonwealth Association of Architects' Focal Point), Construction Industry Council's Climate Change Committee, WorldGBC's Advancing Net Zero Steering Committee, CIBSE Intelligent Buildings Group as Vice Chair, and IWBI's Health Equity Advisory Group. She regularly contributes to the wider climate change, sustainability, and wellbeing debate in her role as tutor at various academic institutions, as well as regular speaking appearances at many international events.
Mina is and architect and Sustainable Practice Director at SOM, where she leads sustainability and wellbeing daily operations and long-term vision for achieving excellence in practice. She has experience in a wide variety of projects in Europe, UK, Middle East, and Asia, bringing a greater understanding of the implications for sustainable and equitable design in different climatic, social, and regulatory contexts.
Mina Hasman
Let's make something extraordinary
You're looking for exceptional architecture. We're looking for exceptional projects. Let's start a conversation
Enquire